Sure, the candles made in a manufacturing plant smell so good. But they're not exactly earth-friendly. They tend to have a lot of soot and sometimes just overall messy.
Candle Shop
focuses on authentic hand-poured Soy Serenity earth-friendly candles! Every jar candle is skillfully handcrafted by their master chandler and her staff for maximum scent throw by using the finest fragrance with essential oils and the best 100% Vegetable Soy Based Wax.
They offer many
sizes of candles
including XLarge, Large, Medium, Small,
tealights
,
tart and melt wax
,
travel tins
, and even candle accessories. They have over 30 scents available including Pumpkin Chai, Noni Fruit, Cranberry Chutney, and even Blackberry Sage.
If you're not one to blow out candles, they have 2 beautiful
candle snuffers
. I absolutely love the Amber Jeweled Candle Snuffer. It's so ornate with silver and amber jewels around the bell. The other one is a pretty brass candle snuffer with an ornate handle.
You can still burn those manufactured candles if you like, but don't forget to try Soy Serenity Candles for that hand-poured experience!
You can find
Candle Shop
and
Soy Serenity
on Facebook.
BUY
You can purchase
Small Candle Travel Tins
starting at $4.99
WHAT I THOUGHT
The actual flame isn't that big.
It's not secret that I love candles. At this very moment, I always have at least 3-4 candles in each room, burning every day. Not only does it make the house smell good, it just creates an atmosphere that's worth having. So when Candle Shop approached me to review their Small Candle Travel Tins, I was already choosing my scents.
So what did I eventually choose? Apple Crumble and Lemon Lavender. The reason I chose Lemon Lavender is because lavender tends to calm down Smokie, my 10-year-old tortoiseshell cat when she's restless. I chose Apple Crumble because it just sounds yummy.
But I also received 2 small tealights, though I haven't burned them yet so I have no clue what the scents are.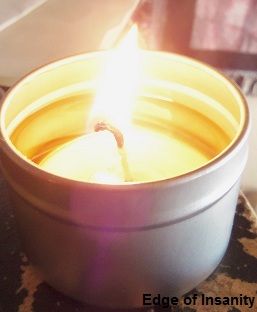 These Small Candle Travel Tins are great for small places where you want to place a candle without burning down the house. The only thing I didn't like was that the travel tins tend to burn down sort of quickly. About 3 hours after burning them, it would be down at the bottom. I don't know if its just the tins or what, but the scents were true to their names! I was craving apple cobbler (We eat cobbler here down in the south. LOL) a few minutes after burning Apple Crumble. With the Lemon Lavender, there was a scent of citrus with a flourish of floral lavender. Because it's actually a popular combination, it worked really well together. It was definitely
a scent I've never smelled before but it was nice!
So, here's the rundown:
1. The travel tins tend to burn a little quickly. Also, be careful because the outside can be hot.
2. The scents were great!
Would I buy Soy Serenity candles again? Since I love soy candles, absolutely. But next time, I think I'll try the jar candles. They may last longer!
GIVEAWAY
Who wants to chance to win some Soy Serenity candles? One(1) winner will receive two(2) 7oz Soy Serenity candles in the choice of scents! Enter below. Good luck!
a Rafflecopter giveaway
I was NOT compensated for this review/giveaway. I received 2 FREE Small Candle Travel Tins from Candle Shop to review. All thoughts/opinions are my own. Your experience may differ.