Spring & Summer are almost here, which means that more and more women are going to be getting out and getting active. But no woman wants to have terrible body odor after a hard day chasing after the kids or a hectic day after the office.
Dry Idea
AdvancedDry Fresh offers enduring odor protection for up to 72 hours and Pulse Activated Wetness Protection that helps keep you dry all day long. It is also formulated with Vitamin E for a silky smooth application.
Dry Idea AdvancedDry Fresh is also available in Roll-On (with other scents being Unscented and Powder Fresh) as as well as Clear Gel (Scents available: Unscented and Powder Fresh).
You can find Dry Idea on
Facebook
.
BUY
You can purchase Dry Idea AdvancedDry Fresh Roll-On deodorant wherever Dry Idea deodorant is sold.
WHAT I THOUGHT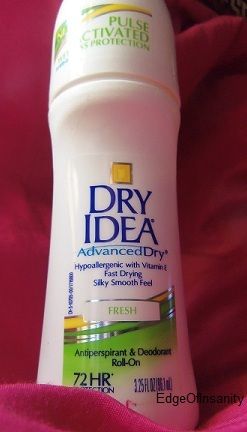 Since women have a different way of perspiring than men, it's
really
important that we have a good deodorant to keep us feeling fresh and dainty all day long. With it beginning to feel a lot like Spring here in Texas, that means temperatures are rising. When temperatures rise and you start to work out (or become more active), sweat occurs. Yuck!
So I had no problem trying out Dry Idea AdvancedDry Fresh Roll-On this morning as I headed out the house. The first thing I noticed was that it went on smoothly. The texture was silky, and the application process was super easy. The scent was also, well, fresh- like laundry just coming inside after hanging outside on a clothesline all day.
Now I bet you're wondering about that 72 hour protection, huh? As I did errands all day (even stopping for lunch), I never noticed any wetness in the underarms or any body odor at all. Even as I did some cleaning this afternoon, not hint of sweating, which I loved because we hit 85* today and it was HOT! Has it kept me fresh for 72 hours? We'll know in a few days!
As Winter changes into Spring and Spring into Summer, I will most likely have this by my side each time I step out of the house.
GIVEAWAY
Want the chance to try Dry Idea AdvancedDry out for yourself? Four(4) winners will receive a FREE Dry Idea AdvancedDry product coupon!
a Rafflecopter giveaway
I was NOT compensated for this review/giveaway. I received a FREE Dry Idea AdvancedDry product to review. All thoughts/opinions are my own.