Note: This is revised from a recipe Twin found on the internet. The original recipe wasn't working for us so we had to improvise.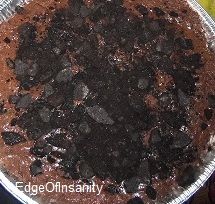 No Bake Oreo Dessert
1 bag of Oreo cookies, crushed
4 tablespoons of melted butter (margarine also works)
1 cup of confectioner's sugar
2 boxes of Chocolate Jell-O pudding powder
1 1/2 cups of Cool Whip (frozen but thawed)
1 (8 ounce) package cream cheese, softened
What you'll also need:
Pie Pan
1. Scrape the cream from between the Oreo cookies, and separate the Oreo cookies and cream. You will not be needing the cream so you can do what you want with the cream.
2. Once you have de-creamed all of the Oreo cookies, crush the cookies up real fine to almost a powder. It's okay if there are some chunks.
3. Melt 4 tablespoons of butter in the microwave. Be sure not to scorch the butter.
4. Mix the confectioner's sugar and pudding powder until it is combined.
5. Mix 1/4 of the Oreo powder and butter together. Make a layer of Oreo crust on the bottom of the pie pan.
6. Combine the confectioner's sugar and pudding mixture with the Cool Whip and cream cheese and fold. Add 1/2 of the remaining Oreo cookies to the mixture and fold.
7. Once all of it is combined into a pudding-like substance, spoon into the pie pan and smooth.
8. Garnish the top of the mixture with the remaining Oreo cookie powder.
9. Put cling wrap on the top and stick it in the fridge for a few hours or until it sets up.
Note: If you prefer a lighter-colored pudding, add more Cool Whip and less Chocolate pudding powder.
Cut (or spoon, if it doesn't sets up well) and enjoy!
Time: 10-25 minutes (including the de-creaming of Oreo cookies and crushing)
Fridge time: 2-3 hours