Okay, so my sister sent me the link to this instant win sweepstakes L'Oreal was holding. And the one of the prizes was a
L'Oreal Healthy Hair Creme Gloss hair color
free product coupon. At when I won one of those coupons, I was still debating the idea if I wanted to continue dying my hair red or go back to black.
The pros I had to work with was that I looked great with red hair, and being single, guys had some sort of reaction to it, which upped my self esteem. Plus, there are so many shades of red that I couldn't go wrong.
But the cons weighed more than the pros. The more I washed my hair, the more I noticed more pink going down the drain. I had to re-color or touch up about every 3 months, so it go to be more of a hassle than I was hoping for.
So I decided that I would go back to my black hair I had for years. I decided upon the Blue Black/Licorice color. Dying was easy. I've been doing it for more than 10 years, so I'm pretty much a pro at it. While the box claims it doesn't have that ammonia smell, it sorta does. It's not overbearing like most hair dyes, but I could smell it a little. The color turned out beautiful, but not as shiny or glossy as I was hoping. Instead of using the conditioner included, I think I'll just continue with the conditioner I have. It makes my hair more shinier than anything that comes with the dye kits.
I thought I would do a before & after reveal of my new color: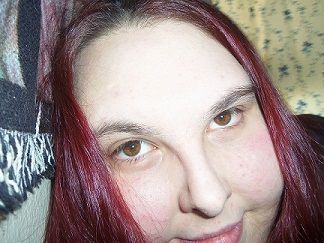 BEFORE- RED
AFTER- BLUE BLACK
So what do you think? I'm very happy with the outcome, though it might need another touch up since there are still some red streaks. Oh well. LOL