It's almost Springtime that means it's time to start Spring cleaning! Time to get out those buckets, mops, and all purpose cleaners!
Soft Scrub
is the leading company for the best household cleaning products and supplies! The NEW Soft Scrub Total All Purpose Bath & Kitchen Cleanser is tough on stains, yet gentle on surfaces. The new and improved formula has more whitening power and less residue, for better rinsing. That means better cleaning and faster rinsing for your tile, grout, sinks, and tubs.
The all-new bottle and cap design improve dispensing, preventing spills, and making for a more efficient cleaning experience.
From sinks to showers to bathtubs and faucets, this cleanser will blow you away with its versatility and fresh, lemon scent.
No one likes a dirty household. Make your surfaces happy. Fight grease and grime with the strength of the NEW Soft Scrub Total All Purpose Bath & Kitchen Cleanser. Your surfaces will thank you.
Want the chance to win $1,000 and a year's worth of Soft Scrub or be one of 250 to win a FREE bottle of Soft Scrub? Enter the
Soft Scrub® Total All Purpose Sweepstakes
and you could win!
You can find Soft Scrub on
Facebook
BUY
You can purchase Soft Scrub Total All Purpose Bath & Kitchen Cleanser at your local retailer. Prices may vary.
WHAT I THOUGHT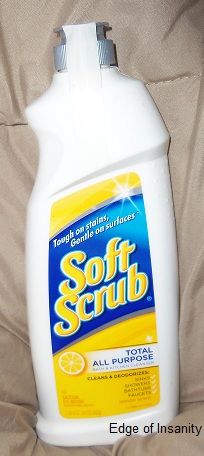 The weather has really warmed up here in Central Texas. With highs in the 80's (Yep, you read that right- highs in the 80's), I figured I would get some Spring cleaning done. I thought I'd start with my least favorite chore- the bathroom and kitchen. I started off with some off-brand we had but it wasn't really cleaning that well so I had to clean what I could and put if off until I could get the good cleaners.
So when Soft Scrub Total All Purpose Bath & Kitchen Cleanser arrived, I reluctantly went back to the bathroom and kitchen to finish. The toilet bow is pretty clean at all times, but there are other times when it won't stay sparkling. The Soft Scrub got the rest of the grime off (Ick!) and there was a nice lemony scent that made the rest of the toilet cleanup less gross.
I next tackled the bathroom sink faucet. Why is that the faucet always has junk on it when it's supposed to clean your hands? Anyways, it knocked most of the junk and dirt off of it and actually shined it! It was nice to see myself in the silver.
The next chore I really hated. I had to clean the top of the electric stove and I wasn't looking forward to it. No matter how hard you try, there is always a grease fairy popping in to dirty the stovetop. I poured it on and let it sit for a few minutes before wiping so that it can lift the grease. It didn't lift it all at first and I had to go over the stovetop a few more times during the week, but it eventually got all of the grease and food off of the stove, which was a relief. I would have hated to spend the rest of my Spring cleaning time working on that stove. LOL
I have a few more tests to run it through (Will it clean the mess that Dad made the other day, trying to fix the bathtub faucet?) before I completely commit to it as my "go-to"? cleaner, but it gets the job done and the room smells like a lemon grove!
I was NOT compensated for this review. I received a FREE bottle of Soft Scrub Total All Purpose Bath & Kitchen Cleanser to review. All thoughts/opinions are my own. Your experience may differ.