It's Summertime, but it also means back to school for young ladies. We spray ourselves with perfume before heading to class so that we smell sweet. But it's hot outside, which means we sweat. After an hour in gym class (or running to the nearest lecture hall), our perfume is no longer working. Ick. Been there done that.
With
Travalo
, you can now take your favorite fragrance with you with their Refillable Travel Perfume Bottle Atomizer Spray! Super easy refill system makes it a breeze to fill it up with your perfume, without the use of funnels or hoses.
How to Refill Travalo
So how do you get the perfume into that bottle? Remove the spray head from your perfume bottle. Place your Travalo upright on top of the nozzle peg, and repeatedly pump it up and down to fill. You can tell how much is in your perfume atomizer bottle by the fill level indicator window.
It's so small, it fits practically anywhere! Carry it in your purse, carry-on bags (Yep, they're even Aircraft Approved!), or even in your pocket. It's shatter-proof so even if you drop it, you won't be loosing your favorite perfume all over the floor.
Guys, you can also use it for your cologne! You no longer have to lug that heavy cologne bottle when you travel. You have your choice of 4 convenient sizes: Travalo Pure (5ml), Travalo Classic (4ml), Travalo Excel (5ml), and Travalo Elite (5ml). Colors vary, depending on the size.
BUY
You can purchase the
Travalo Elite Pink
for $19.99. Receive 50% OFF Travalo Elite when you enter the code
EDGE50
.
WHAT I THOUGHT
I love perfume. I've had so many over the years, but Twin recently got a FREE bottle of fragrance mist from Bath & Body Works, which I have fallen in love with. But every since the Summertime heat hit Texas, I've been trying to remember to spray every time I left the house so I wouldn't smell like sweat. I couldn't remember all the time so when I wasn't even halfway finished with errands, I wasn't exactly smelling like "roses".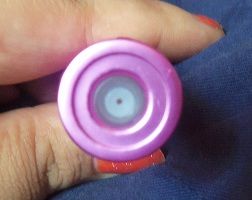 I jumped at the chance to review Travalo Elite Pink, because I knew I could fill it with Twin's fragrance mist to keep in my purse. After trial and error (and finally reading through the instructions thoroughly, which I should have done in the first place), I finally had both bottles to where I could properly fill it. It was super easy! It took only about 2 minutes or less to fill it. See the circle part of the picture? That's where I finally filled it to.
The actual spray is strong enough to provide a disperse scent wherever you spray it. It was easy peasy to refill, and now I have perfume in my purse for those moments where I wanna smell nice!
GIVEAWAY
Thanks to the great folks at Travalo, one(1) winner will receive their own Travalo Elite!
a Rafflecopter giveaway
I was NOT compensated for this review/giveaway. I received a FREE Travalo Elite to review. All thoughts/opinions are my own.